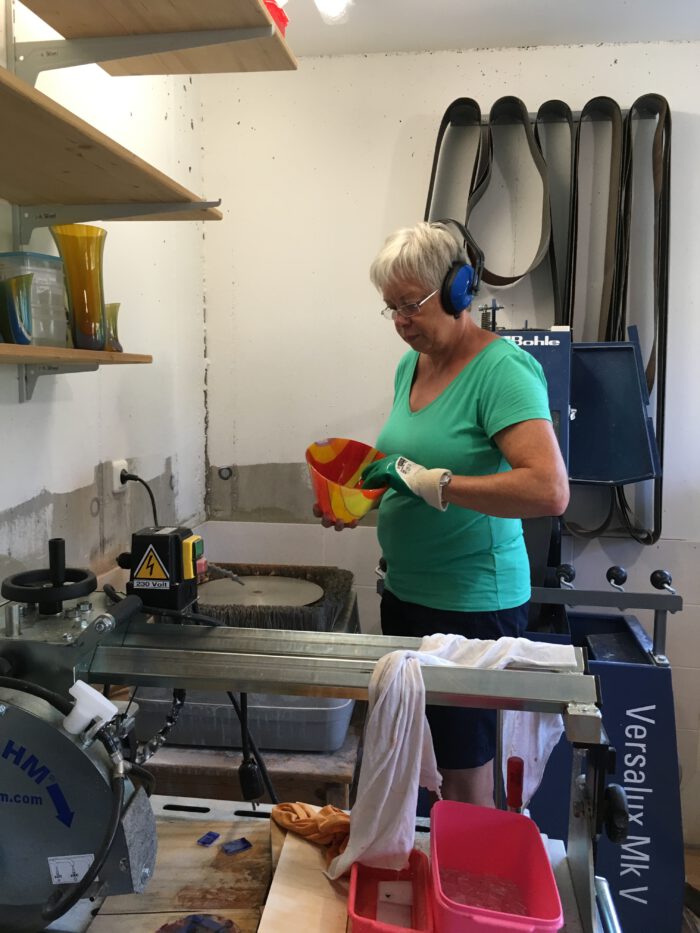 2014
hun ech matt Glaswëckelen, bzw Glaspäreldréien aus Murano Glas ugefaangen.
2015
Eischt Versich matt Flaachglasverschmelzung matt Bullseye Glass (USA)
2016-2018
hun ech vill verschidde Couren a Formatiounen an Daitschland, Eistraich + an der Schweiz besicht.
2019
Masterclassen an England, Eisterraich, an der Glasverschmelzung
2020
Unerkennung vun der Handwierkskummer Tréier
2021
Online-Masterclassen vu Glaskünstler aus Kanada, Südafrika, USA an UK. Unerkennung vun der Chambre des Métiers Lëtzebuerg

2022

2023
Abrëll/ 4 Deeg Masterklass by Ruth Shelley an UK
August/ 5 Deeg Masterklass by Emma Varga an der Schweiz


Januar 4 Deeg online class printscreening by Helen Slater UK
Februar 3 Deeg Masterclass Cours by Nina Casson an UK
Juni 4 Deeg "Gläserne Plastik" bei Alkie Osterland D

Member Berufsverband Handwerk Kunst Design Saar e.V.

All meng Stecker sin eegen an eenzegarteg Kreatiounen, meng Telleren a Schuelen sin liewensmettel echt. Ech schaffen matt héichwertegem, handgerullten Glas aus Amerika (Bullsey Glass)
Wann Dir un enger vu mengen Kreatiounen interesseiert sidd, schreiwt mir : monique.wolter@icloud.com
**********************
🇬🇧

Vita – English
I'm a contemporary warm glass artist from Luxembourg, now living at the border in Germany, creating functional art, decorations and jewellery in glass.
2014
I began to work on a torch to create lampworkbeads out of Murano glass
2015
I did my first experiments on glass fusing
2016-2018
I took part at a lot off workshops in Germany, Austria, and Switzerland
2019
masterclasses followed in UK, Austria for glass fusing
2020
inscription at chamber of crafts in Germany Trier
2021
online masterclasses from teachers in Canada, USA, SA and UK
Inscription to the chamber of crafts Luxembourg

2022


2023
4 day masterclass by Ruth Shelley in UK
5 day masterclass by Emma Varga in Switzerland


4 day online class in screen printing and casting by Helen Slater
3 day masterclass by Nina Casson in UK
4 days class by Alkie Osterland Germany glassy models

Glass is such a beautiful material that reflects light, it can have a smooth or matte finish, like most of my plates and bowls. The matte finish is created by sandblasting. All my plates and bowls are food safe, unless otherwise marked.
Every piece is a unique work of my own, created with love and passion of handrolled Bullseye glass made in USA.
*********************
Seit über 7 Jahren arbeite ich mit Glas, mit Perlendrehen am Gasbrenner hat diese Leidenschaft angefangen.

2014
erste Versuche und Kursbesuche im Glasperlendrehen am Gasbrenner
2015
Die Glasleidenschaft hat mich voll gepackt und ich versuche mich ebenfalls in der Flachglasverschmelzung (Glasfusing)
2016-2018
Fortbildungen in beiden Bereichen in Deutschland, Österreich und der Schweiz
2019
Teilnahme an verschiedenen Meisterklassen In UK und Österreich im Bereich Fusing
2020
Anerkennung der Handwerkskammer Trier
2021
zahlreiche Online Meisterklassen von Glaskünstler aus Canada, UK, USA und Südafrika absolviert
Einschreibung an der Handwerkskammer Luxemburg


2022 April/ 4 Tage Masterklasse von Ruth Shelley in UK
August/ 5 Tage Masterklasse von Emma Varga in der Schweiz
2023
Januar 4 Tage Online Kurs screenprinting von Helen Slater England
Februar 3 Tage Masterclass by Nina Casson in UK
Juni 4 Tage "gläserne Plastik" bei Alkie Osterland Deutschland
seit Juli 2023 Mitglied des Berufsverbandes Handwerk Kunst Design Saar e.V.
Jedes meiner Stücke ist ein Unikat, die ich aus hochwertigem, handgerollten Glas aus USA. (BULLSEYE Glas) fertige.
Bei Interesse schreiben Sie mir monique.wolter@icloud.com
*********************
🇫🇷

Français – Curriculum Vitae
Je travaille le verre depuis 2014.
Mon premier cours m'a introduit dans la création de perles en verre au chalumeau avec du verre de Murano. Un an plus tard, je me suis également familiarisée avec la fusion (fusing) du verre plat dans le grand four. Le fusing est une technique de verre à chaud, d'abord composé à froid puis fusionné au four.
Depuis, j'ai suivi beaucoup de formations. Il y a une myriade de techniques que j'ai apprises auprès des artistes verriers renommés du Luxembourg, d'Allemagne, de Suisse, d'Angleterre, d'Afrique du Sud, du Canada, et d'Amérique.
En 2020, j'ai reçu ma reconnaissance pour la fusion et le perlage du verre de la Chambre des métiers de Trèves (Allemagne) ainsi qu'en 2021 celle de la chambre des métiers du Luxembourg.
En 2022 4 jours formations by Ruth Shelley en UK
5 jours masterclass en pate de verre by Emma Varga en Suisse
en 2023 4 jours master online class inscreen-printing et casting by Helen Slater Angleterre.
3 jours masterclass by Nina Casson in UK
4 jours 3d modèles en verre chez Alkie Osterland Germany
Chaque pièce est une création unique, faite en verre américain BULLSEYE Glass, verre entièrement colorié, existant en couleurs opaques et transparentes, qui m'offre une panoplie de possibilités.
adresse de contact: monique.wolter@icloud.com
agréée par la chambre des metiers de Luxembourg et Handelskammer Trier